Home-grown, premium Montana beef delivered to your door.
Bringing families together, one nutritious meal at a time. 
Does buying meat for your family dinner cause you stress?
Meal planning and preparation are just two of the hundred tasks you tackle every single day. You want to make sure your meals are delicious, filling, and simple to make. Save trips to the grocery store and have it delivered right to your door instead!
We ship premium Montana Beef and lamb cuts directly from our Ranch to your freezer.
Our Montana premium beef and lamb are nutrient-dense and great tasting. Feel confident in the meals you're feeding your family.
It's not too often you find the rancher and butcher are the same person. At Todd Family Meats, we personally raise the meat that's delivered to your door and oversee the processing and packaging. You might say we have our bases covered in operating a business that delivers top-quality beef directly to consumers. Whether it's popular steaks and roasts or a package of ground beef, give our Montana beef and lamb a try!
Specializes in:
Quality and care
Qualifications:
5th generation rancher, livestock evaluator, and keeper of the spreadsheets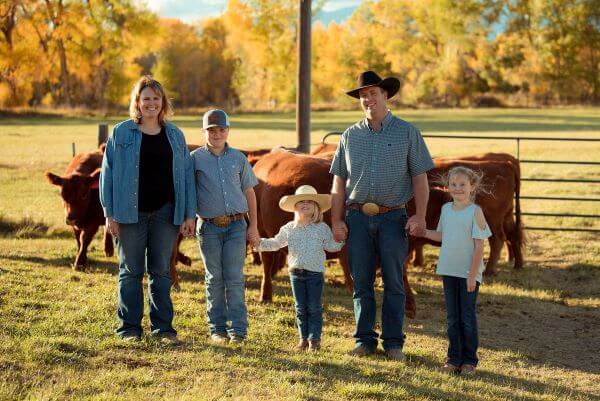 Specializes in: Animal welfare and meat knowledge
Qualifications:
20 years of experience, manager of a meat processing facility, Former USDA meat inspector & grader
Three easy steps to get cooking
Determine what bundle or cuts you need and place an order.
Orders are posted every Monday with next day shipping in eco-friendly packaging.
Select your meal and get cooking!  Your family is going to love it.
Your satisfaction is our mission
Todd Family Meats is truly a family ranch.  Together with our kids, we are passionate about raising cattle that produce super premium Montana beef. You might say ranching is in our blood as we both grew up on beef ranches and were active in 4-H and other youth programs. 
When the pandemic opened the doors to launching our direct-to-consumer meat business, we jumped in with both feet. We love working together as a family and being able to produce food that can be the centerpiece of your spread and nourish your family like it has ours.
Notes from Happy Customers
"For the last couple of years we have been buying beef from Todd Family Meats. I can't imagine going anywhere else. The quality of meat that you get is absolutely the best. They do such a great job of packaging, labeling and the care that they have for the customer is unbelievable. It is first class all the way with Todd Family Meats. Once you've had their beef you'll never wanna go anywhere else."
"We have enjoyed your beef a lot! My husband says he has never had beef that good and I can't say I've had anything this memorable since I was a little kid. It really is amazing that you have such good meat available easily. You guys are brilliant!"
"My family and I are loyal customers and have been since Gary and Heidi Todd made the decision to follow their dreams and provide locally-sourced, locally-processed, quality meat to others without such access. I have referred others to their products without hesitation and will continue to do so in the future."
Join our mailing list for updates on newly processed meat, specialty boxes, our recipe recommendations and more! Subscribe and immediately receive 5 free ground beef recipes to your inbox.